I had the privilege to perform and record with Naghmeh Farahmand in several concerts and events. She is one of the best percussionist I came across. Naghmeh has the ability to adapt to many styles of playing beside her Iranian traditional way of playing percussion. Beside the fact that Naghmeh has an incredible technique she is amazing musician with great personality.

DOWNLOAD HERE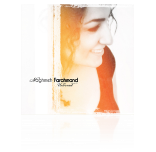 UNBOUND 'FIRST PERSIAN FEMALE
SOLO PERCUSSION ALBUM'

Naghmeh Farahmand's self produced, debut album 'Unbound' delivers Persian rhythms, Middle Eastern and Oriental vocal.
– Anton Apostolov / Artist, Producer
©2014 Naghmeh Farahmand Music. All Rights Reserved.